Fermer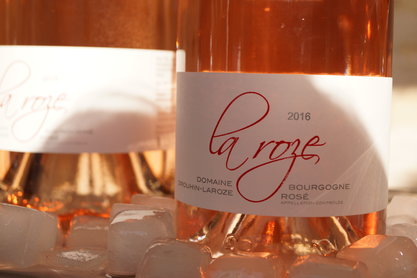 Nouveauté Notre Rosé 2016
Bourgogne Rosé
Appellation Origine Contrôlée
Vintage 2016
Bled' from our prestigious appellations, this Rosé 2016 will enchant you with its delicate aromas and finesse.
General Information
Variety: 100% Pinot Noir
Terroir: clay-limestone soil
Harvest: hand-picked
Production: 1400 bottles and 300 Magnums
The Wine
Born from a saignée of our different appellations in Côte de Nuits, our Rosé is vinified meticulously in stainless vat, carefully maintaining the lovely aromatic complexity of the wines from which it comes and bringing, through carefully controlled vinification, both beautiful freshness and lightness of touch.
Rosé laroze is available in Bottles and Magnums
Recommended keeping: up to 3 years
Serving temperature: 10 to 12 °C
so as to benefit fully from its aromatic complexity
Tasting Characteristics
The Rosé laroze offers magnificent rose petal brilliance that is an invitation to tasting pleasure.
The first nose gives a hint of the aromas of small red fruits and spices so typical of its traditional Pinot Noir grape variety.
The first taste impression is well-rounded, fresh and silky, giving way on the finish to notes of exotic fruits and white flowers.
This Rosé is to be enjoyed young, but will develop pleasantly over the next two years.
In bottle or in Magnum, ourRosé laroze will delightfully accompany your summer season, fresh as an aperitif or with summer salads, grilled meats or also with fruit tarts.
Long live Summer !