Fermer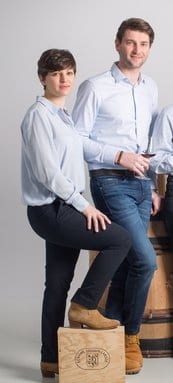 Vintage 2019 - Jasper Morris
Vintage 2019

Laroze de Drouhin
Jasper Morris - January 2021
Ce que la presse en pense...
WHITE
2019, Bourgogne Côte d'Or Chardonnay, Laroze de Drouhin
88
All from Brochon and Fixin. Bottled July. 20% new wood with 450 and 500 litre one year old barrels. Full yellow. Sound concentrated chardonnay, fresh and dynamic at the back, good acidity, plenty of energy, and a clean fresh fruit. Tasted: November 2020
RED
2019, Moulin-a-Vent, Laroze de Drouhin
87
From the southern flank of Moulin-à-Vent on sandy soil, 50 year old vines. Vinified here in Gevrey-Chambertin using 50% whole bunches, punched down at the end, so semi carbonic, and bottled early with the 2018s. Clear pink purple with a fresh classy nose. Sweet and easy, decent wine this year after a difficult 2018 Tasted: November 2020
2019, Bourgogne Côte d'Or Pinot Noir, Laroze de Drouhin
87-89
Purchases in Chambolle and Morey, using the same suppliers since 2008. 30% whole bunch, 20% new wood. Dense ripe purple. This is suave and silky with a real heart. Ripe but balanced. Tasted: November 2020
2019, Fixin, Laroze de Drouhin
88-90
The vineyard is En Coton. 25% whole bunch 20% new wood. Fresh vigorous purple. All about the vigorous fruit here, smooth and supple yet with a depth of dark raspberry. Impressive again, balanced, dark fruit. Tasted: November 2020
Domaine Drouhin-Laroze
I tasted with Nicolas and Caroline in their brand new- almost finished at any rate - tasting room. I am delighted to report that the tasting was far more successful than the previous year where I suspect there were some tired samples. I have not yet had the chance to retaste the 2018s from this domaine to verify. The 2019s, including the handful of negociant cuvees reported on under Laroze de Drouhin, were much more what I expect from this Domaine which has usually been on form of late. The key in 2019 was to preserve acidity, needed to balance the high degrees. The colour was extracted immediately, the grapes were healthy and vinification relative easily. Most wines are between 13 and 13,5 % alcohol. The harvest began on 16th September for the reds, finishing on the 22nd.
2019, Morey-Saint-Denis Très Girard, Drouhin-Laroze
89-92
100% whole bunch. The vines are at least 60 years old, on quite a heavy soil, hence the whole bunch idea to liven the wine up. They scarcely show given the rich luxury fruit. This has considerable charm, the dark fruit taking on some slightly nutty notes. It is certainly fresher than the 2018 tasted a year ago. Tasted: November 2020
2019, Gevrey-Chambertin "Sans Souffre", Drouhin-Laroze
88
50% Whole Bunch Fermentation; 40% new wood. This had just been bottled, in early November. Dense black centre with a purple rim. The nose has something of an oxidative character. The palate is a little bit fresher, with prunes and plums and dark raspberry. Good acidity behind. Tasting : November 2020
2019, Gevrey-Chambertin "Dix Climats", Drouhin-Laroze
88-91
50% Whole Bunch Fermentation; 40% new wood. I thought there might be a whiff of oxidation here, but in fact I suspect it is a residue of tasting the sans soufre cuvée since this is clearly fresh on the palate, even with a slightly stern finish from the stems, cherries with a savoury edge, and good length. Tasted: November 2020
2019, Gevrey-Chambertin "En Champs", Drouhin-Laroze
90-92
30% Whole Bunch Fermentation; 40% new wood. Deep purple, a soft but charming nose with surprising depth of fruit behind, a few blackberries with dark raspberry and then a fresher finish with more red fruit notes. Tasted: November 2020
2019, Gevrey-Chambertin 1er Cru Au Closeau, Drouhin-Laroze
89-91
50% Whole Bunch Fermentation; 60% new wood. Vigorous old vines on deep clay so they do a green harvest and another thinning at veraison. Brisk purple with an almost raisiny richness, which has not gone too far, some tannins behind, not quite in harmony. Tasted: November 2020
2019, Gevrey-Chambertin 1er Cru Craipillot, Drouhin-Laroze
90-93
30% Whole Bunch Fermentation; 60% new wood. Mid-red purple. A cool site. Certainly the nose is fresher than Closeau. Still rich enough in a sweet raspberry and strawberry style, some minerals behind which help to extend the finish. Tasted: November 2020
2019, Gevrey-Chambertin 1er Cru Clos Prieur, Drouhin-Laroze
90-93
30% Whole Fermentation; 60% new wood. Darker crimson and with a little bit of toast. Perhaps some salted caramel too. Dark red fruit behind with the sweeter finish of the vintage, a little less acidity than some. Tasted: November 2020
2019, Gevrey-Chambertin 1er Cru Lavaut-Saint-Jacques, Drouhin-Laroze
92-94
60% new wood. No whole bunches were used as the wine was both fine enough on its own. Rich deep purple, very powerful but superbly balanced, a wine in harmony with the longest finish to date. Suave balanced fruit stretches out across the finish. Tasted: November 2020
2019, Chambolle-Musigny, Drouhin-Laroze
91-93
30% Whole Bunch Fermentation; 40% new wood. 80% is actually 1er Cru Baudes and 20% is from the village part of Véroilles. Lovely purple in colour, and a beautiful nose here, the perfect pitch of ripe dark yet floral fruit with a sense of energy. Very suave on the palate, supple, generous and persistent. Tasted: November 2020
2019, Chapelle-Chambertin Grand Cru, Drouhin-Laroze
92-94
30% Whole Bunch Fermentation; 80% new wood. Dense mid purple. Certainly the bouquet is of ripe dark raspberry fruit, with a suave mass of fruit immediately on the palate then a more fine-boned finished. Engaging, could use more grip. Tasted: November 2020
2019, Latricières-Chambertin Grand Cru, Drouhin-Laroze
93-96
30% Whole Bunch Fermentation; 80% new wood. Rich dense purple. There is a magnificent density of dark ripe fruit here which absolutely fills the mouth, more detail, holds together really well. Succulence with backbone and a light acidity. Tasted: November 2020
2019, Bonnes Mares Grand Cru, Drouhin-Laroze
92-95
50% Whole Bunch Fermentation; 80% new wood. A blend across many plots, including two younger vines which bring a little bit of volume and freshness. Dense dark purple, a little bit lifted on the nose, yet still clearly ripe. The oak shows more. Touch of raisins and drier finish, this is just coping. Not noble enough though. Tasted: November 2020
2019, Clos Vougeot Grand Cru, Drouhin-Laroze
93-96
80% new wood. No whole bunches are used as they do not wish to hide the muscular shoulders of Clos Vougeot. Intense purple. There is a huge volume of fruit but with excellent tension behind, a good fruit acid balance, still ripe and of course not showing detail yet. But this stands up tall and should work well. Long powerful and oaky finish. Why not. Tasted: November 2020
2019, Chambertin-Clos de Beze Grand Cru, Drouhin-Laroze
94-97
30% Whole Bunch Fermentation; 80% new wood. Intense imperial purple in colour, with supple and very dense deep fresh raspberry fruit apparent on the nose, super succulent, loaded at the front of the palate continuing right through. The fruit really spreads through to the back, and though it is ripe it stays on the cusp of red and black, with a crunch at the finish. Tasted: November 2020
2019, Musigny Grand Cru, Drouhin-Laroze
93-96
30% Whole Bunch Fermentation; 100% new wood until racking. One barrel and 190 litres in one year old wood. Huge dark purple, almost a black fruit Musigny, impressively concentrated, a little dry at the finish, plenty of weight, not quite the feeling of majesty-yet, at any rate. Tasted: November 2020