Close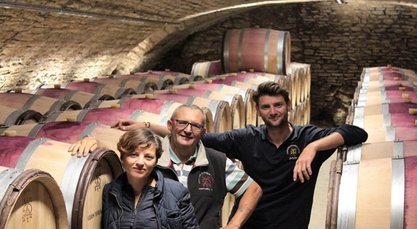 Guide Hachette 2018 - Winemaker of the year
Domaine Drouhin-Laroze
Philippe Drouhin, voted winemaker of the year in the Guide Hachette 2018
The Domaine Drouhin-Laroze is amassing top ratings over recent years. Philippe Drouhin, in place since 2001, is handing over to his children Caroline and Nicolas in a way that is all gentleness and clear vision. The results are there to see...
The domain has achieved a new 'heart-throb' rating in this edition of the Guide. How do you explain that your wines are today placed amongst the real references of the Côte de Nuits?
Probably thanks to the arrival at the helm of the new generation. In 2014, I started to delegate vinification to my children. They were already involved at the domain, but we started to put their ideas in place. They go for options that are a better fit with current tastes. They will be in complete control over forthcoming vintages. For a certain number of years now, I have been keen on this transition taking place gently and as soon as possible.
What precisely has developed under the influence of Caroline and Nicolas?
In the 1970s, our parents produced Pinot Noir wines that were all elegance and finesse, to the detriment of colour and structure. My generation showed that it was possible to give colour and structure to Pinot Noir. I was from that very generation. Today, wine lovers also look for elegance, well-roundedness and finesse, while having a good structure supported by tannins that are well present and fine. The new generation really knows how to achieve this, with upstream work in the vines allowing grapes brought to the vathouse to be of the best quality and with a mastery of whole bunch vinification, with less frequent and gentler punchings-down and lots of little details that, when all added together, amount to major changes.
So today, the domain does its vinification in whole bunches?
Yes, my son masters this perfectly, but we do not make a general rule of it. This choice is well thought out for each batch of grapes brought in, as a function of the quality of the stem structure and what we want to bring to the wines.
Has your son Nicolas attended courses? Is he inspired by certain domains in particular?
He exchanges a lot with his winemaking colleagues. His is a generation that likes to meet up, do comparative tastings and exchange information. We are no longer in the "generation of secrets" but that of "openness". And it's good for the overall quality of wines.
So, are you fully confident in this new generation?
Oui, moi j'ai fait ce que j'avais à faire depuis 2001 en mettant le domaine à son niveau de qualité actuelle. J'ai fait ma part du travail, mais avec les années, je commençais à stagner, la jeune génération avance vite, elle est extrêmement pointue sur plein de choses. Il faut être dans le coup, d'où ce choix.
In which circumstances did the renewal take place 15 years ago?
As at this moment, I was able to apply my way of seeing things during vinification and that matched the tendency at that time and customer tastes. I was lucky that people were interested in what I was putting in place and the results achieved, which allowed me to recover a faithful clientele.
Are there developments in terms of wine ageing to be noted?
No. My children's wish is to respect the style of the domain in making elegant, fine wines. We have continued to age in barrel over eighteen months, however with the idea of lowering a little the percentage of new oak (between 20 and 80 % today, as a function of appellation).
Regarding vine growing, are there noteworthy developments to point out?
I like to say that we are in reasoned, balanced growing, getting as close as possible to organic growing. Of course, that is the tendency and is in current thinking at the domain, but it is still too early to talk about it.