Close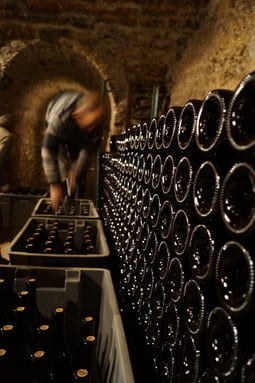 Clos de Vougeot 2017 **

Coup de Coeur
The family Drouhin-Laroze has one hectare in the upper part of the Clos, not far from the Castle. The wine was aged during 18 months in oak and presents a beautiful aromatic freshness. The oak is noticeable but already in harmony with the fruit and a slight touch of mint. The palate is powerful, ample, carried by fine tannins that still require polishing. The total package creates a very elegant yet racy clos-de-vougeot, a real candidate for long ageing.

Chambertin Clos de Bèze 2017 *
Initially quite reserved and marked by a toasted oak (18 months of ageing in casks), its aromatic expression develops as it airs towards blueberry, violet, and strawberry. After a full-bodied and gourmet attack on the palate, the tannins firm up, but without becoming bitter. A grand cru with a beautiful presence that has all the qualities conducive to a harmonious ageing.
Gevrey-Chambertin En Champs **
Continuing its stride from the last editions of the Guide, the Domaine offers a Gevrey of a great aromatic complexity and a beautiful elegance. With its delicate aromas of black fruit at the right maturity, refinement is present right from the nosing. While still dominated by the ageing, the palate distinguishes itself by its length and silky tannins.
Gevrey-Chambertin Premier Cru
Lavaut Saint Jacques 2017 *

Here we are with one of the most beautiful 1ers crus of the appellation. The aromatic palate of this 2017 is wide, evoking raspberry, cherrry, and some floral notes. The finesse and balance on the palate foresees a prosperous ageing.
Laroze de Drouhin / Bourgogne Côte d'Or Chardonnay 2017
With a handsome golden yellow, this cuvée opens with an intense nose of exotic fruits (passion fruit, lychee) and white flowers. The palate is fresh, fluid, and well-balanced.